September is an excellent time for whale watching in the southern Pacific zone of Costa Rica.  At this time of year, humpback whales congregate around the Whale's Tail formation in Marino Ballena National Park, and the town of Uvita hosts its annual Whales and Dolphins Festival (or Festival de Ballenas y Delfines).  The Festival is a great place to find a whale watching tour, learn more about humpback whales in Costa Rica, and meet others interested in marine life.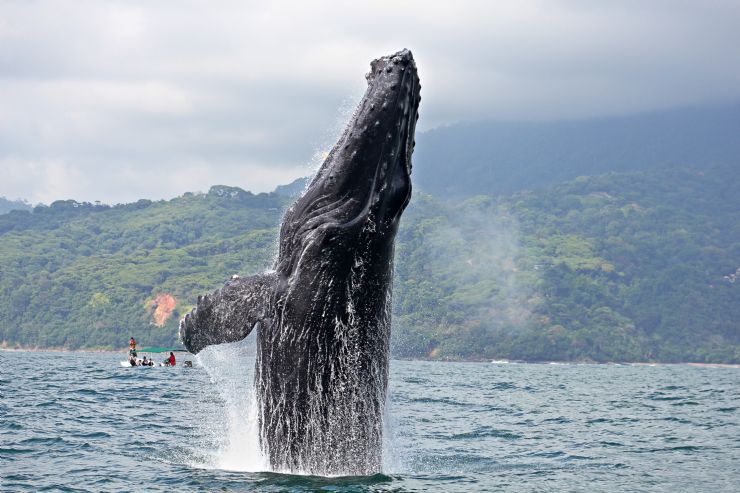 Whale watching tours are most common by boat, and numerous boat tours are available.  We recommend tours from Costa Rica Dive & Surf at the entrance to Marino Ballena National Park.  They have a comfortable boat and an excellent captain, and are happy to arrange private tours or group tours.  On a recent tour with Costa Rica Dive & Surf, we saw a humpback whale family - father, mother, and calf - and watched them swimming and waving their tails for over an hour!  We also saw dolphins, a turtle, and lots of sea birds, and checked out the caves and swam near Isla Ballena.  Whale watching tours by boat are a great activity for kids of all ages, just remember to brings lots of snacks, water and sunscreen!
For experienced paddlers, it's also possible to go whale watching by SUP or kayak. It's a bit harder to find whales on a SUP or kayak than it is by boat, because you can't cover as much ground looking for whales or travel towards the whales as quickly when you see them.  But when you do find whales , the experience is so rewarding!  You feel so much closer to the whales on a SUP or kayak.  Last year we were fortunate to SUP within 20 yards of a mother and her calf!  They stayed partially on the surface, breathing, for several minutes while we watched.  If you go whale watching by SUP or kayak, please be sure to respect the whales: be quiet and don't get too close.  And don't forget your waterproof camera! 
Although September is a common time for whale watching, humpback whales are actually present in Costa Rica almost year round.  Humpback whales migrate from Antarctica to Costa Rica from August to October; others come from the Arctic from December until April.  So no matter when you are here, you may be able to see whales!  We've even heard reports of orca sightings near Caño Island.    
There's never a shortage of wildlife sightings in the Dominical area, but watching whales swim with their calves is one of the most special sightings of all.  If you've ever dreamed of seeing whales, come visit us! Or better yet, consider purchasing a home in the area and you will be able to go whale watching anytime.  Dominical Real Estate can help you find the perfect property to suit your whale watching needs, whether it's a house close to the beach for those early morning whale watching SUP trips, or an ocean view property where you can watch whales breaching from your front porch!