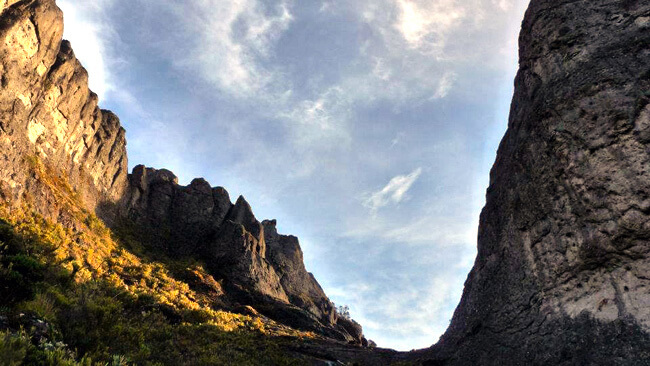 Chirripo National Park
Costa Rica has many beautiful parks that are popular destinations for travelers and residents alike. Chirripo National Park is one destination that you won't want to miss, as it is home to the highest mountain in the country. This park had its name established in 1975, and it falls over three different provinces: Cartago, Limon, and San Jose.
One of the most notable features of Chirripo National Park is Cerro Chirripo, which is the tallest mountain in the country. It rises to over 12,530 feet, or 3,820 meters. In addition to the peak, there are many notable valleys and walking paths where you can enjoy a short or a long hike.
One of the most popular hikes runs along 10.3 miles (16.5 kilometers) on a trail that starts in San Gerardo de Rivas. From here you'll end up at the park ranger's refuge in Los Crestones. Many will stop here and return to the start, but for more adventurous spirits, they'll want to hike up to the peak of the mountain. This adds an additional 3.1 mile (5 kilometer) walk to the summit. From here, if the weather is clear, you can view the Pacific Ocean to the west and the Caribbean Sea to the east.
During walks and hikes you'll get to take in interesting plant and wild life. For example, the park is home to several fascinating and colorful varieties of mushrooms, but look, don't touch!
Visitors to the park can experience a variety of different ecosystems. There are five counted in the park: lowland tropical wet forest, premontane tropical wet forest, lower montane wet forest, montane wet forest, and subalpine wet forest. These forests can change to wet desert during the hottest parts of the year.
You'll experience two different types of climates in the park. One happens during the dry season which is from December to April. The wet season starts after that and lasts from May to November. Like many forests in other countries, Costa Rican forests are highly susceptible to fires in the dry season. Fortunately, caution has been exercised, and the last major fire was in 1992, which decimated nearly 8 square miles of vegetation, and forced the closure of the park for many months.
You'll be surprised to learn that Costa Rica does suffer from sub-zero temperatures, particularly in Chirripo National Park. In the past the park has recorded low temperatures of -15°F (-9°C). Many visitors will want to pack a jacket, as the park can be one of the coldest spots in Costa Rica.
Visitors who've had their fill of hiking can stop in for a visit to the Las Nubes Centre for Neotropical Conservation and Research. You can find this building on the southwest corner of Chirripo National Park. This Centre is managed by the York University of Toronto, Canada.
If you're searching for more of a rain forest type of park than a beach park, Chirripo National Park is sure to offer plenty of opportunities to get outdoors into fresh, cool air, where you can experience the natural habitat of some of Costa Rica's valued plant and animal species. As home to Costa Rica's highest mountain, it is also an excellent destination for hikers.